So it seems I haven't posted here since last April...which coincidentally is when life went downhill like an avalanche. I understand better now what happened and how to try to prevent that problem in the future. I'm not going to re-hash old offenses and wounds though. That would just give the people who tried to harm me more power and authority than they ever deserve. I'm going to use my lack of posting as a metaphor for my attitude: Look forward with a clean slate. :) I'll post more about my new job-adventure in the coming weeks once I jump in and get started. I will say that I am still happily driving my little sports car and now have added a sexy big motorcycle to the garage. The motorcycle riding has been FANTASTIC the past year and I'll blog on that more later.
Meanwhile, I've gotten back to some knitting and spinning! I'm surprised I actually remember how. I finished a simple scarf to wear on the motorcycle a couple of weeks ago (first FO in 2 years!!). It's a great, if painfully simple design that buttons into a double layer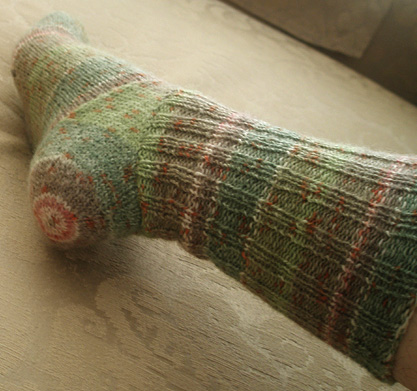 V over the front of the chest - right where the wind is most cold while riding. Now I'm finishing up a pair of socks in a great colorway of blues, golds and browns. I'm going to call them my New Beginning socks since I started them between jobs. Maybe I'll wear them my first day symbolically IF they go with the outfit. LOL They are from the "Hat-Heel Sock" pattern on Knitty Fall 09. Not a bad pattern, I liked the idea of a new way to knit the heel, but I doubt I'll do the pattern again. I do like the way the heel fits but I don't like the lump of seams in the instep. Now, if I could use that heal as an afterthought heel..... hmmm.
Then I'm toying with a couple of patterns I might start next. A heart cable sock out of some fantastic red yarn I bought with Judy last week or a scarf out of sock left-overs. We'll see what leaps onto my needles. LOL